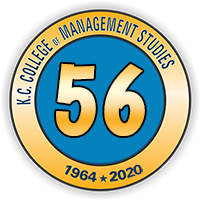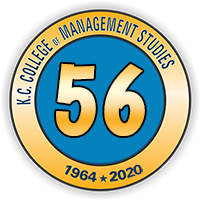 KCCMS@56
KC College of Management Studies is one of the most prestigious educational institutions of the Hyderabad (Sind) National Collegiate Board.
The college has been imparting quality education in management since more than 50 years. KCCMS began with just one course in Journalism and now has a plethora of courses like PG Diploma in Corporate Social Responsibility, Certificate course in Digital Marketing etc which are relevant to the present times and are the need of the hour.
The dedicated and diligent faculty of the college is to be applauded for their constant and consistent endeavour for excellence. It is due to this concerted effort that KCCMS was ranked as the 5th emerging school in India in 2012 by Business Standard and in the year 2014, Bombay College of Journalism, KCCMS, was awarded with LOKMAT National Education Leadership Award for B-Schools with industry related curriculum in Communication.
KCCMS is ever aware that it cannot rest on its laurels and has to forge ahead striving to inculcate the best management education in its students.